I'd had the idea for Moral Compass since early 2011, I think. Maybe it was earlier than that, but that's when I registered the domain name and asked an illustrator to create the rotating banners at the top.
But you know how it goes. Life got busy, clients called, my family needed a husband and a dad, we adopted two dogs, and on and on.
Then, in February, I learned of this little girl: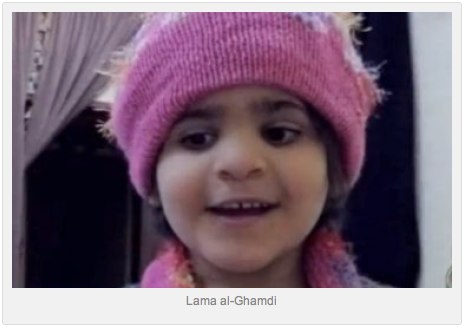 Her name was Lama al-Ghamdi. She was five. This is what her very religious father did to her:
A prominent Saudi Arabian preacher who raped his 5-year-old daughter before torturing her to death has been spared a death sentence or even a lengthy prison term after agreeing to pay "blood money" to the slain girl's mother. [He] was arrested last November and charged with brutally raping and torturing 5-year-old Lama al-Ghamdi to death. According to a medical report, the little girl had been tortured with whips, electric shocks and an iron. She had broken arms, a broken back and a fractured skull.
The man, Fayhan al-Ghamdi, is a respected Islamic scholar, and a regular commentator on issues of religion and morality for several Muslim TV channels. He's a bit of a holy man, really. See for yourself:
According to social worker Randa al-Kaleeb, Lama had been raped "everywhere." Agence France-Presse reports that hospital staff told the girl's mother that her "daughter's rectum had been torn open and the abuser had attempted to burn it closed."
By the grace of Allah the Mighty, the Merciful, al-Ghamdi received just a metaphorical rap on the knuckles, "spared a death sentence or even a lengthy prison term after agreeing to pay blood money."
Lama was the spark that finally lit my fuse. She is why you are visiting this blog right now, and why I spend countless hours updating it with the latest examples of religious hypocrisy and evil.
Moral Compass is dedicated to what I call, with a wink, "calibrating the faithful." It's a chronicle of religious wickedness — one that, by its nature, pokes fun at the delusional claims by people of faith that a belief in God equips them with superior moral standards.
You can help, if you wish, by sending suggestions for new posts.
My thoughts frequently drift to Lama al-Ghamdi. She continues to be an inspiration.
The only reason I'm sorry there is no heaven, is that Lama sure didn't get much of a life on earth.
And the only reason I'm sorry there is no hell, is that I find it oddly gratifying to picture Lama's father and his ilk spending eternity immersed in a lake of fire.