A cold case heats up.
All evidence pointed police to one conclusion: A priest had killed a beautiful 25-year-old schoolteacher.

[In 1960,] searchers had found the lifeless body of former Miss South Texas, Irene Garza, face down in a canal in her hometown of McAllen. She'd disappeared on the day before Easter after going to Sacred Heart Catholic Church for confession.
An autopsy determined Garza had been raped while in a coma, and then had died from suffocation. Near Garza's body investigators found items that belonged to the church, including a candelabra.

One item, a metallic Kodak slide photo viewer, belonged to a 27-year-old priest who was assigned to the church: the Rev. John Feit.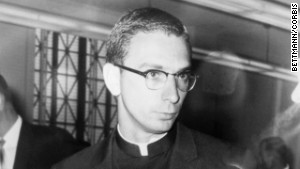 Feit failed lie detector tests. Adding to the suspicion was that just 24 days before Garza's murder, Feit had been arrested for attacking a young woman at a church in a town about 10 miles from McAllen.
[In that case,] Feit pleaded no contest to misdemeanor aggravated assault. A judge found him guilty and fined him $500 with no prison time.

To this day, police officers and law enforcement agencies that have dealt with the case say they believe Feit killed her.
So why was he never put on trial?
It was unthinkable that a Catholic priest would commit such a crime. That's the way Garza's cousins remember it.

"We were accusing a priest — in those days, priests were infallible, " said Lynda De La Vina, who was 9 years old at the time.

Another cousin, Noemi Sigler, was only 10 when Garza was killed. "It was impossible for a priest to do such a deed. I mean, if you thought of it, that would be sacrilegious."
Some 42 years after the murder of Irene Garza,
Two surprise witnesses independently came forward — each separately claiming that they heard Feit confess.
One of them was Dale Tacheny, who was Feit's spiritual counselor at the Missouri monastery where Feit had been sent a few years after the murder. Guilt compelled Tacheny to finally come forward.
But the county district attorney, not believing the case for the prosecution strong enough, declined to plow ahead.
To this day, John Feit, now in his eighties, says he didn't kill Irene Garza. He remains a free man.
[photos via CNN]